Decorating with a Printable Christmas Village
Sep 12, 2022
Ok, can we talk about the "extra" things that become the FAV things?! This printable Christmas Village has become just that here in our home! It's already added so much warmth and cozy vibes, we all just love to look at it! Trust me, get going with these! Oh, and if you want them to be extra amazing, print them out on this ivory linen card stock right here, grab some blanket snow (or cluster stuffing), and add some lights behind it.....and the ooooo's and ahhhhhhh's will surely come!
I had seen some vintage versions of paper villages, and I knew it was something I had to create! They are so beautiful as is with the black and neutral.....but you could even let your kids color a version if they wanted too!
You'll notice that the buildings have the fold-back tabs for standing, but I left them off the tree, truck, and train, because it would have looked a little weird. BUT I found a super easy way of standing them that you could even use for the buildings if you like it better! Do you use essential oils or anything else that leaves you with lots of tiny little bottles? (Obviously you could even use something like a small block too! I just have tons of oil bottles and they work perfect!). Whatever small object you have, just hot glue it to the back base of the tree, truck, and two for the train. It will make them stand perfectly and adds some weight...they'll never fall over!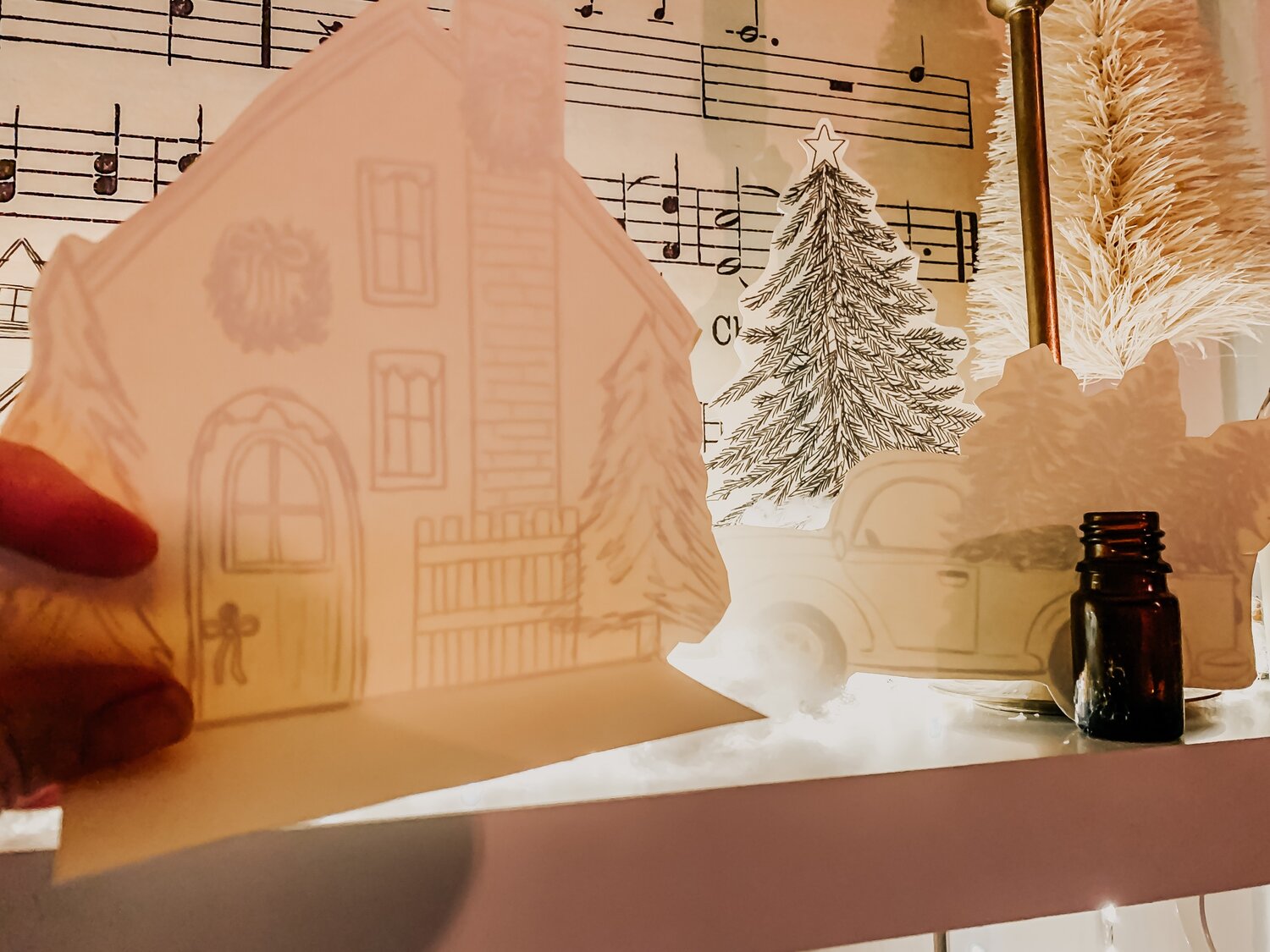 We are already planning a few more little places to add them around in our home! So here's the steps broken down, super easy!
1. Print the PDF file on card stock (here's the link to the ivory linen that i love for so many things!)
2. Cut them out leaving just a little white space outside the black sketched line.
3. Fold tabs back for the buildings.
4. Glue an object like a small oil bottle, block, or whatever you have to the base of the back of the train cars, truck, and tree.
5. Set on a mantle, shelf, or table.
6. Add fake snow and lights to give it a cozy glow.
7. Sit back and enjoy it all season long!
It's so extra dreamy at night!
Here's a cute little video of it all!
Let me see how you set yours up! Tag me on Instagram! I know you are gonna love it too!
xoxo, Christy